Jan/Feb 2019

Directionsby Alvin Taylor, Director,
South Carolina Department of Natural Resources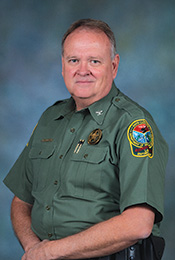 This issue of South Carolina Wildlife celebrates the magazine's sixty-fifth anniversary. I can remember as a high school student in the seventies pouring through each issue cover to cover, and for the forty-one years that I have worked for this agency, I have continued to read every issue with excitement.
We are truly blessed to live in a state that has a long and praiseworthy history of conservation of our natural resources. And what a story South Carolina Wildlife has told through the years, from the reestablishment of the eastern wild turkey and white-tailed deer to the current work being done with red-cockaded woodpeckers and gopher tortoises. The pictures and articles are priceless. Sitting here now, I can see black and white photos of our biologists and wardens with satisfied smiles on their faces as they release wild turkeys. Those moments captured in the pages of SCW magazine truly tell the story of the SCDNR and its employees - the pride of a job well done and of making a difference.
We have so many dedicated SCDNR employees, and none more dedicated than the editors and staff of this exceptional publication. From one generation to the next, they have received many awards and accolades for articles that introduced us to the special places across our state, places such as Jocassee Gorges, Jumping Off Rock, Botany Bay, Webb Wildlife Center, Santee Coastal, Ft. Johnson Marine Center, Pockoy Island shell rings, fish hatcheries, Sassafras Mountain and Marian's favorite, Deveaux Bank.
Of course, everyone has a favorite cover. What is yours? Mine will always be the one covered with oyster shells (July-August 1980). When I see it, I can smell the pluff mud and hear the mullet jumping in the creek.
During the magazine's sixty-five years of publication, the scope and responsibilities of this agency have changed dramatically, and South Carolina Wildlife magazine has been there to tell the stories of our modern-day law enforcement team, the management of 1 million acres of public lands, the stocking of 13 million fresh and saltwater fish, archaeological discoveries, groundwater issues, rare plants and offshore research. It just doesn't get any better. Outstanding stories, beautiful photographs, dedicated staff, and a grand state with so much to offer.
Thank you, current and past staff of South Carolina Wildlife for a job very well done!
- Alvin Taylor, Director
South Carolina Department of Natural Resources
Association of Conservation Law Enforcement Chiefs Legacy Award recipient