May/June 2020

Directions

by Robert H. Boyles, Jr., Director, SCDNR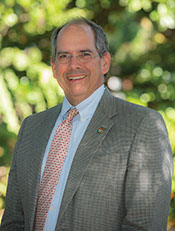 THE EVENTS of the past several weeks have been nothing short of extraordinary as, here in South Carolina, we have been reminded of how connected we are. In the face of the coronavirus pandemic, we have learned how challenging it can be to loosen, even temporarily, the ties that bind us to one another as we follow public health authorities' advice about covering our coughs and sneezes, washing our hands thoroughly with soap and warm water, and exploring just what it means to practice "social distancing" (a term that was unfamiliar to many of us just a few short weeks ago).
We are blessed to live in an era with access to modern technology and medical science, where we understand a great deal about the ways in which viruses and diseases can be spread among our populations, and where we can be inoculated against many of the most serious threats to our health and well-being. Through electronic media we are as connected to one another as any population, and we can stay connected with the touch of a button to folks literally on the other side of the globe. Ours is a marvelous existence.
The coronavirus has turned our world upside-down and has spurred a great deal of anxiety in many of us. Things that we once took for granted suddenly seem so foreign. Can I go for a walk in the park or on the beach? Can I wet a line in my favorite fishing hole while maintaining appropriate social distancing? Will I be able to ride in the boat with my family anytime soon?
The outdoors long have offered South Carolinians a respite and refuge from the anxieties of the day. With this in mind, we are particularly pleased to present an overview of our state Wildlife Management Area program, written and illustrated by former South Carolina Wildlife editor John Davis. Your SCDNR staff are extraordinarily proud to be stewards of these "Jewels in the Crown," and I encourage you to consider visiting some of these special places as you look for ways to boost your physical and mental health in the weeks and months to come.
- Robert H. Boyles, Jr., Director
South Carolina Wildlife